Where to apply for Schengen visa?
A Schengen Visa is applied for at the Embassy or Consulate of the Schengen country which you will be spending the most nights on your trip to the Schengen Space. If you are only visiting one country on your trip then you apply for your visa at the Consulate of this Schengen country.
When to apply for Schengen visa?
If you require a Schengen Visa you need to apply it before travelling.
Schengen, an area of free movement
Schengen area enables EU citizens, non-EU residents and visitors freely and safely travel within the Union.
There are 26 European countries that are party to the Schengen Agreement, which eliminates all internal border controls between them. Once you enter one Schengen country you may travel continuously for up to 90 days within the member countries. Within the Schengen area, you do not show your passport when crossing country borders.
Travelling in Europe has been simplified with Schengen visa.
About travel insurance
Travel insurance including medical cover and repatriation is required when you apply for your Schengen visa (actual repatriation clause needs to be presented to the Consulate). It must cover the duration of the requested visa.
Slovenia entered Schengen area 21.12.2007. More about Slovenian visa.
The member countries of the Schengen agreement are:
1. Austria
2. Belgium
3. Czech Republic
4. Denmark
5. Estonia
6. Finland
7. France
8. Germany
9. Greece
10. Hungary
11. Iceland
12. Italy
13. Latvia
14. Liechtenstein
15. Lithuania
16. Luxembourg
17. Malta
18. Netherlands
19. Norway
20. Poland
21. Portugal
22. Slovak Republic
23. Slovenia
24. Spain
25. Sweden
26. Switzerland
Schengen Area as of 01/07/2013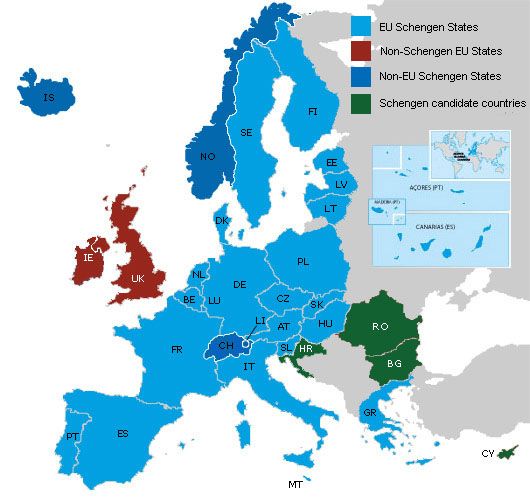 Please note that the UK and Ireland are not a part of the Schengen agreement.
Source: European Commission