About Data d.o.o.
Data d.o.o. is a private company with more than 45 highly educated employees. We are a leading company in Slovenia in providing comprehensive support for entrepreneurs. Read company profile …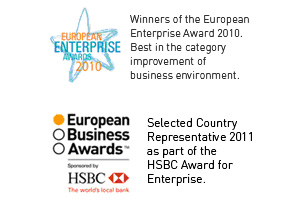 Data d.o.o. was presented with the greatest recognition for our work in the twenty years of the company's existence, as we won the European Enterprise Award in the Improving Business Environment category with the project Programme of Providing Support to Entrepreneurs Aimed at Reducing the Closure Rates of Businesses.
What we do:

We offer:
Comprehensive assistance in company registration procedures (Ltd., Sole proprietor and branch offices)
Assistance in incorporation abroad
General and specialist tax, accounting and marketing consultancy in
Organization of educational and training programmess, workshops
Preparation of application documents for the acquisition of European and national grants and project management
Preparation of business plans
Assistance in employing personnel
Accounting services with more then 25 years of experiences
Services of virtual office (business address)
Support services for foreign citizens (all in one place from the acquisition of Slovenian tax numbers, translation of necessary documentation, free registration of companies to obtaining work permits for foreigners, job placement assistance for workers etc.)
We provide consultation on overcoming initial obstacles at starting a company. As one of the One-stop shop points (e-Vem) we register companies free of charge and prepare all the necessary documentation.
Data d.o.o. is placed at the top in the number of operations performed in framework of one stop shop point.
We successfully cooperate with several institutions in the area of business support:



Employment Service of Slovenia, Public Agency of theRepublic of Slovenia for Entrepreneurship and Foreign Investments, Ministry of Justice and Public Administration, Ministry of Economic Development and Technology, Ministry of Foreign Affairs and others.
More then twenty years of successful work and satisfied clients have made us a reliable business partner. We will help you to arrange everything you need for your business operations in Slovenia in one place. You can be sure that we will strive to meet your requirements.
---
If you have any questions feel free to contact us by phone +386 (0) 1 600 62 70 or write us an email on data@data.si