Are you a foreign citizen who wants to register a Private Limited Company in Slovenia? In this article you will find some useful advice.
What documentation will you need for the registration of Private Limited Company in Slovenia?
To establish a Private Limited Company in Slovenia all foreign founders/representatives need a Slovenian tax number. We can obtain it in your behalf.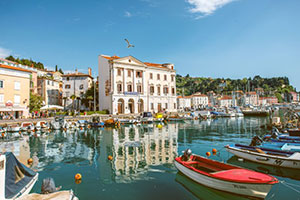 To obtain the Slovenian tax number we will need from you:
a copy of your passport, your permanent address, date and place of  birth
signed power of attorney that we will prepare for you
If the founder is a foreign company, you will need the Slovenian tax number also for the company.
After obtaining the Slovenian tax numbers for you, we can make a reservation of name of your future company.
Regarding selection of the name of the company:
The name of the company must be in Slovenian language and shall not have foreign letters that are not in Slovenian alphabet (q, y, x, w).
A translation of a registered name into a foreign language may only be used together with the registered name in Slovene.
Where can you register a Private Limited Company and how?
You can register a private limited company at our offices in Data in the capital of Slovenia. The procedure can be done in just one day and it is free of charge!
After the registration process, you will have to open a business bank account. We can help you to choose the suitable bank in Slovenia. The starting capital that is necessary for Private Limited Company is minimum 7.500 eur. The bank will give you a certificate about deposit, and you will bring this document back to us.
What about the accounting service?
In addition, we can arrange you a meeting with our accountant, if you wish, and offer you professional tax and accounting consulting! Also you can have your accounting service here, at Data. Therefore our company employes many experienced accountants.
Package offer
We can help you in the whole process for company registration in Slovenia from the beginning. We can obtain Slovenian tax numbers and offer you a business address. You can register your company here and choose our accounting services. Also we can help you to obtain residence and work permit and  reunite your family. For free you can at our offices inroll in the social security funds or employ new workers. … everything that you need for doing business in Slovenia.
More questions about Private Limited Company registration process? Contact us!
Finally, if you have more questions about how to establish a Private Limited Company in Slovenia, you can contact us! E-mail: data@data.si, phone +386 1 6006 270 or Viber, WhatsApp +386 40 530 718. You can aslo connect with us on Facebook. We give a 100% guarantee and support for business migration to Slovenia!